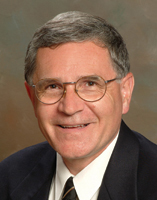 Bob Loree, P.Eng.
Director of Engineering (Retired), McMaster University
For more than three decades, Bob Loree has combined his love of teaching and engineering to initiate and promote programs that encourage students to consider careers in engineering. These include Science & Engineering Fairs, Engineering Challenges, Engineering Olympics, job creation programs, Shad Valley and a host of problem-solving and design events.
As special advisor to the Dean of Engineering at McMaster University and as director of Engineering 1, Loree has been a counselor, mentor, consultant and genuine friend to thousands of engineering students. He shows great commitment to the education of future engineers and has contributed to advancing the profession in society.
The multi-media McMaster Engineering FIREBALL Show, created and produced by Loree, visits high schools throughout Ontario to present "Engineering: an Education, a Profession, a Career". After eight years, FIREBALL teams have made more than 1300 presentations to 450,000 students. A diverse group of organizations have supported the program. A PEO report cites the show as one of the most influential activities encouraging women to enter engineering programs in Ontario.
The Science Can! Foundation, a non-profit program created by Loree "to encourage all school age young people to become more involved in science, technology and the world around them" has received provincial and national recognition.
Much honoured for his dedication to the community and to teaching, Loree's awards include the Prime Minister's Award for Teaching Excellence, the Hilroy Fellowship Award, the Marshall McLuhan Distinguished Teacher Award, two Conference Board of Canada Awards for Education and Community Partnerships, and the Baden Community Service Award.