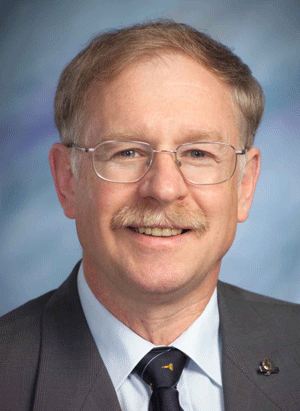 Kevin James Lockey, P.Eng.
Senior Engineer, Mechanical & Metallurgy Department, Electricity Production - Services, Ontario Power Generation Inc.
Through his commitment to volunteerism and educational outreach, Kevin Lockey has enthusiastically promoted participation and learning in science and technology with the youth of Northeastern Ontario.
An active, founding member of the Regional Science Olympics (now in its 11th year) and co-chair of the first regional Robotics Challenge this past spring, Lockey is instrumental in organizing new initiatives to provide learning experiences to students.
Over the past 10 years, he has served as director and co-chair of "Science Timmins", which oversees science-related programs for youth. He is also a past co-chair of the Timmins Regional Science Fair, and has been a judge, active committee member, and Timmins Region delegate at the annual Canada-Wide Science Fairs. In 1998, he chaired two large committees as the host for the Canada-Wide Science Fair in Timmins.
Lockey has contributed his time and use of his aircraft to personally fly more than 100 young people as part of the Young Eagles program, which provides youth an opportunity to learn about aviation and fly in a general aviation airplane. He is also an active Shriner who helps support its network of children's orthopedic and burn hospitals.
In recognition of his significant volunteer contributions to the City of Timmins, Lockey received the Mayor's Volunteer Service Award in 1999.
A dedicated member of the association's Porcupine-Kapuskasing Chapter Executive for more than 18 years, including three terms as chapter chair, Lockey was invested as a Member of PEO's Order of Honour in 1996 for his service to the profession.