Important changes coming to PEO's licensing processes
PEO is introducing changes to our licence application process that will make applying for an engineering licence more efficient, transparent and fair for all applicants. Starting May 15, 2023, PEO's modernized application process will ensure new applicants receive a registration decision within six months of submitting a completed licence application.
The new application rules for obtaining a P.Eng. licence also comply with new requirements set by the provincial government under the Fair Access to Regulated Professions and Compulsory Trades Act (FARPACTA).
PEO will launch an improved online application system on July 1, 2023.
Please continue to monitor the main P.Eng. licensing process webpage and the FARPACTA webpage for more information as it becomes available.
P.Eng. Licence Application Form
As of July 11, 2022, PEO has implemented a new, fully online P.Eng. application system through the PEO portal. New applicants will need to create an account to access the PEO portal. Once you have registered for an account, you may log in and navigate to the application tab to start the P.Eng. licensing application.
After PEO confirms that all required P.Eng. application information is received and the application fee is paid and processed, you will become a PEO P.Eng. applicant and we will provide you with an update on your status.
Please note, all PEO fees are non-refundable. For more information, see PEO fees.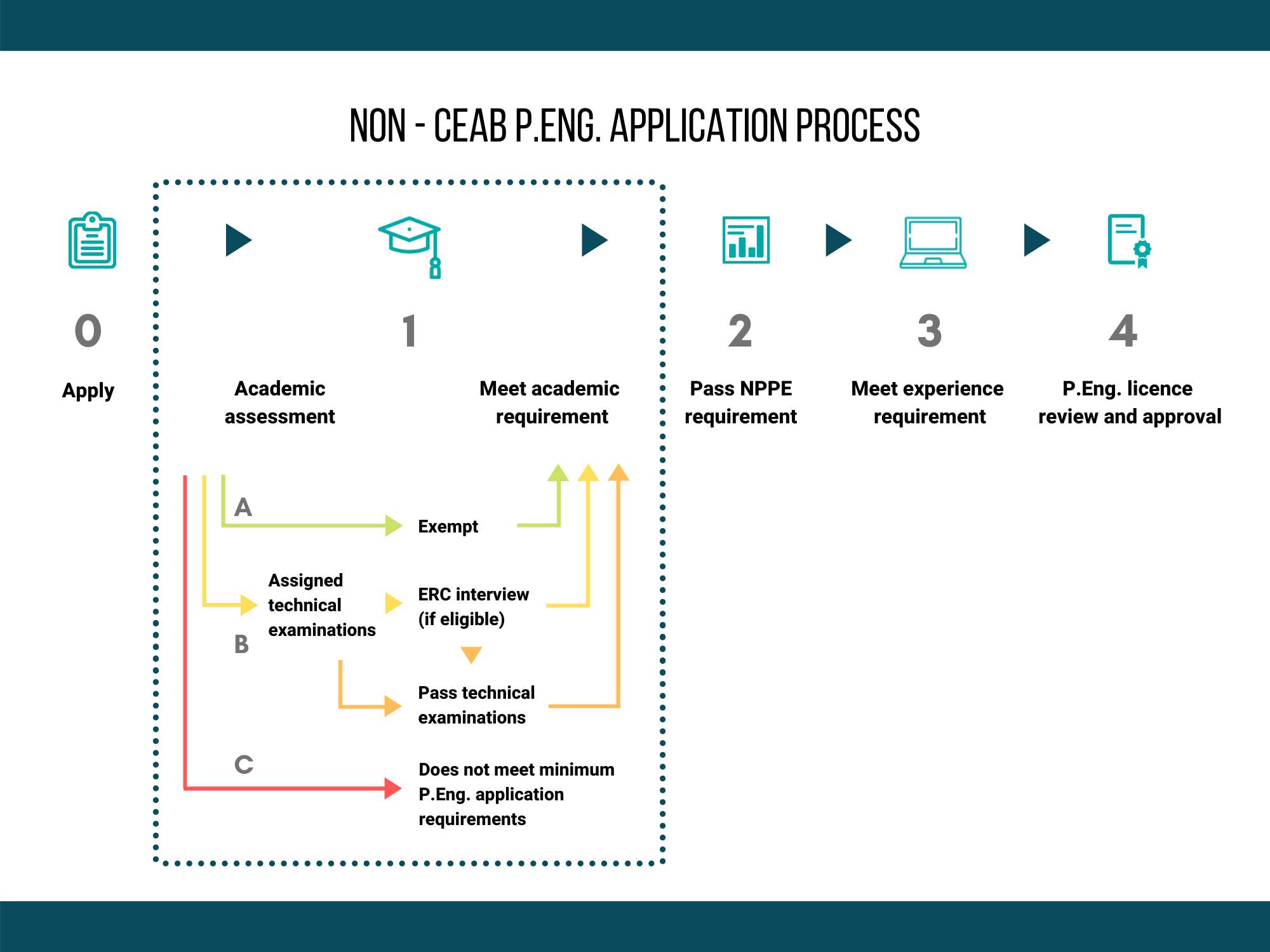 Academic Requirement
The academics of applicants who have graduated from Non-CEAB-accredited programs (Non-CEAB) must be individually assessed by PEO's Academic Requirements Committee (ARC) as to whether they meet the academic requirements for licensing. The applicant will be required to submit academic documents for the ARC's assessment.
As a result of the ARC's assessment, these applicants follow three different paths (A, B and C) to their next step in licensure.
Based on the ARC assessment, the applicant has met the academic requirement and advances to the National Professional Practice Examination.
Based on the ARC assessment, applicants who do not meet the academic requirement are assigned technical exam(s) to demonstrate whether they have an equivalent academic background and the knowledge required for licensing. PEO has two streams of technical exams: confirmatory or specific examination program.

Based on the academic assessment, the applicant does not meet the minimum academic requirement for licensure. The applicant will be issued a notice of determination to be refused to be issued a license, and the application will be withdrawn. Please note, all PEO fees are non-refundable.

Upon PEO confirming the Non-CEAB applicant has met the academic requirement, the applicant will advance to step 2 - writing the National Professional Practice Exam (NPPE).
National Professional Practice Exam
The next step is the National Professional Practice Exam (NPPE). This is a 3-hour, closed-book on-line exam that covers ethics, professional practice, engineering law and professional liability. All applicants must pass the NPPE within two years of being assessed as meeting the academic requirement for licensing.
Upon the successful completion of the NPPE, the applicant will be required to provide additional information in regards to the experience requirement.
Experience Requirement
All applicants are required to obtain a minimum of 48 months of acceptable, verifiable post-bachelor's engineering experience of which at least 12 months must be in a Canadian jurisdiction under the supervision of a licensed Canadian professional engineer.
PEO assesses engineering experience against five, quality-based criteria: application of theory, practical experience, management of engineering, communication skills, and awareness of the social implications of engineering.
For the experience assessment, applicants will be required to submit their experience summary page, referee list, and experience record(s). If additional information is required, PEO will contact the applicant directly.
During the experience assessment, applicants may be referred to the Experience Requirements Committee (ERC) for an assessment. This ERC interview assesses the applicant's competency to practice through demonstration of the five criteria.
Applicants may be eligible for credit(s) towards their engineering experience. For information on the experience credits, please see the Experience Guide.
Upon satisfying the experience requirement, the applicant will move to step 4 – licence review and approval.
Licence Review and Approval
Once the applicant has satisfied all the requirements for licensing, the Registrar will review and give approval for the P.Eng. licence to be granted. After their P.Eng. licensing and annual fees are paid and processed, the applicant is licensed as a professional engineer.
Related Documents and Guides