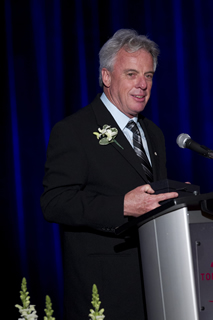 Bob McDonald, OC
Professional Engineers Ontario is proud to recognize Bob McDonald for his remarkable career promoting science, education, the environment and public policy engagements. These are all areas in which professional engineers believe strongly and that align with our core values and aspirations as a regulator.
As an author, a radio broadcaster, and member of the inaugural advisory board of the Ontario Centre for Engineering and Public Policy, he is well-known for making complex issues accessible to the general public.
For almost 30 years, Mr. McDonald has been a familiar face and the voice of science in Canada, starting with the children's television show Wonderstruckin 1986. Today, he is the host of a weekly radio science program on CBC radio called Quirks & Quarks, which has been on the air since 1992, and draws approximately half a million listeners each week. He is also the host and writer for the popular children's series Heads Up! on TVOntario, and the National Science Commentator for CBC Television and CBC Newsworld, where he reports on science issues for The National.
Mr. McDonald is the author of three science books - Wonderstruck,Wonderstruck II, andMeasuring the Earth with a Stick: Science as I've Seen It, which was short-listed for the Canadian Science Writers Association book award.
He has received numerous accolades, including the Sandford Fleming Medal from the Royal Canadian Institute in 2002; and a Gemini for best host in a preschool, children's or youth program or series in 2008.
In 2010, he was initiated as an honorary life member of Sigma Xi the most prestigious scientific research society in the United States, which was founded in 1886.