Beginning January 1, 2023, continuing professional development (CPD) is a requirement for professional engineers and limited licence holders to maintain their licence every calendar year. This new requirement does not apply to provisional and temporary licence holders or engineering interns (EITs).
The new requirements are based on the voluntary Practice Evaluation and Knowledge (PEAK) program that has been piloted for more than five years. The new mandatory PEAK program supports PEO's public interest mandate by helping to ensure that licence holders practise competently and ethically. In turn, licence holders demonstrate their commitment to continually improving their engineering practice.
The new requirements outlined in the new regulation section 51.2 of Regulation 941 under the Professional Engineers Act in Ontario took effect on January 1, 2023. This regulation section describes an annual requirement for continuing education and professional development and how PEO will administer, monitor and enforce this requirement. This regulation section means PEO joins all other Canadian engineering regulators in having a mandatory CPD requirement for their licence holders.
The following chart indicates the PEO status options and the corresponding PEAK program requirements and licence allowances and restrictions.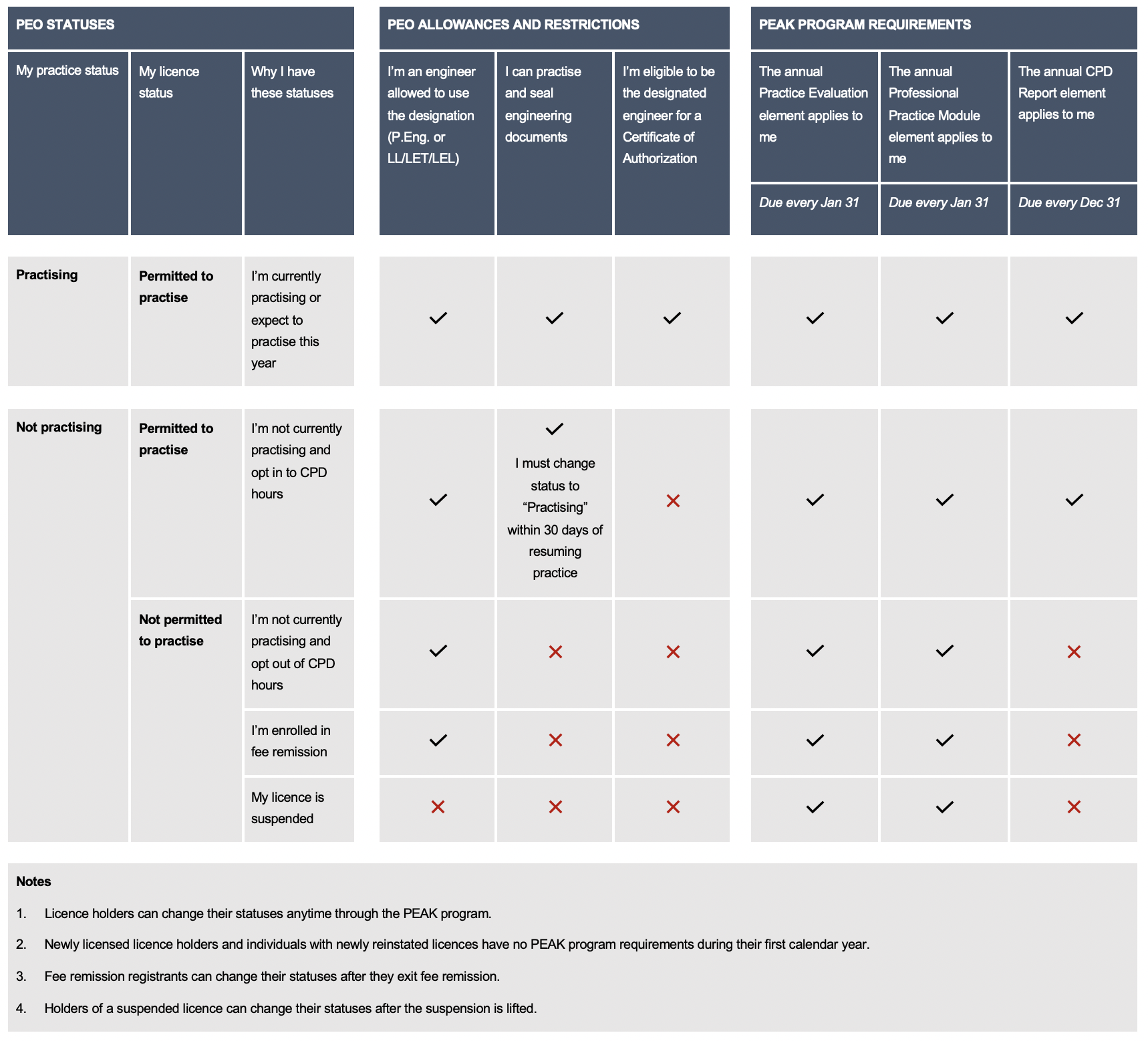 Everything you need to know about the new, mandatory PEAK program is provided below in the video introduction and the following sections.
Watch a video overview of the program and a recorded presentation about the program:
Contact Us
Contact the PEAK program team for more information by email at peoPEAK@peo.on.ca or by phone
Monday through Friday
8:30 a.m. to 4:30 p.m.
40 Sheppard Avenue West, Suite 101
Toronto, ON
M2N 6K9
416.840.1117; or by extension 1117 when calling 416.224.1100 or toll-free 1.800.339.3716