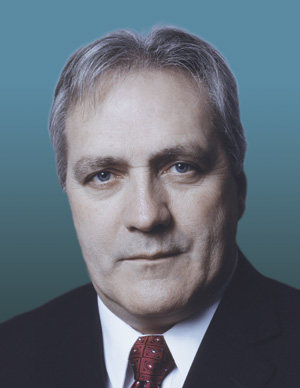 Bruce E. Clarida, P.Eng.
For more than 15 years, Bruce E. Clarida has contributed in a significant and wide-ranging way to his local engineering community and to PEO.
Bruce joined the Algoma Chapter Executive in 1991 as its Secretary and over the next six years also served as Chair (twice), Past Chair (twice) and Education Coordinator. During this time, he helped rejuvenate many of the Northern Region chapters, including his own, by engaging members and chairing several Regional Congresses.
A sought-after speaker and respected leader, he has organized and participated in events to promote the profession in the region, including the annual Engineers Day in North Bay.
For years, Bruce was a strong voice for the vast Northern Region on PEO Council, while a member of the Executive Committee, as a Councillor-at-Large and as a Regional Councillor. In the latter role, he was influential in having implemented initiatives from the Chapter Structure and Revitalization Team (START) reports, including the establishment of the association's first-ever regional office, on the campus of Lakehead University.
For more than a decade, Bruce also brought his high levels of enthusiasm and energy to core committee work, including the Discipline Committee, the Regional and Central Nominating committees, the Regional Councillors Committee, and the Professional Practice Committee.
For these extraordinary and unselfish contributions to the engineering profession, PEO is proud to invest Bruce E. Clarida, P.Eng., as an Officer of the Professional Engineers Ontario Order of Honour.