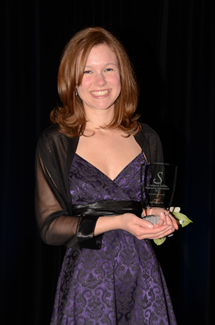 Cara Stapley, EIT
A geological engineering graduate of Queen's University, Cara has demonstrated remarkable leadership skills in her young career.
A member of PEO's Engineering Intern program since 2007, she has been very active in the North Bay Chapter – volunteering to assist with many of the chapter's programs such as Engineer's Day, science fairs, and Student's Night. Cara is also a member of the local branch of the Canadian Institute of Mining, Metallurgy and Petroleum.
Her commitment and leadership skills were put to the test during an assignment in Chile, where, despite being stuck on a site because of a massive earthquake, Cara kept her composure and helped others to carry on with their assignments.