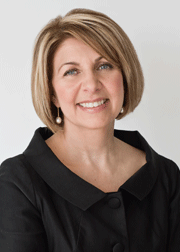 Catherine Karakatsanis, P.Eng., FEC, FCAE
Willowdale-Thornhill Chapter
Catherine Karakatsanis, P.Eng., FEC, FCAE, has led her provincial regulator (PEO), the provincial engineering advocacy body (Ontario Society of Professional Engineers [OSPE]) and the national engineering body (Engineers Canada). She has also chaired or been a member of dozens of professional committees.
As PEO president, Catherine took over PEO Council during a difficult time and under her leadership Council worked together to accomplish many important initiatives. She inspired PEO to become a world leader in self-regulation—a vision that the current council continues to live up to. And during her tenure, she led changes to PEO regulations in response to Bill 175–Labour Mobility Act and successfully led the first major amendments to the Professional Engineers Act in more than 25 years that included interprovincial mobility and professional competency requirements.
As president of Engineers Canada, she worked closely with the regulators to deliver national programs that continue to have a positive impact on the profession and its public profile.
And Catherine has worked hard to promote and increase women in engineering, having served on PEO and OSPE committees and having delivered numerous lectures regarding the engineering profession and women in engineering.