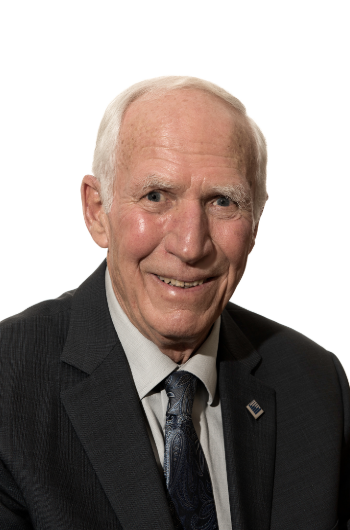 David Robinson, P.Eng., FEC
North Bay Chapter
Since his investiture as a Member of the Order of Honour in 2003, David Robinson has continued his exemplary service to PEO chapters, Council and committees.
David has been a longtime member of the North Bay chapter, which welcomed David and his wife Judi when he joined as a young engineer. While the North Bay Chapter's focus is youth mentorship, its signature event is its annual "Engineers Day" in January. The first event, in 1971, was championed by the chapter chair and organized by the North Bay city engineer who volunteered both Dave and Judi to assist. Since then, it has become an annual tradition aimed at raising local awareness of PEO and professional engineers. Its 50th anniversary in 2020 will be a collaborative effort (PEO, OACETT, OSPE) featuring interesting presentations and networking with leaders and political decision makers.
David's consensus-building skills assisted when he was asked to fill a void on the chapter executive and he was instrumental in organizing a special turn-of-the millennium project he dubbed "The Calling." The project brought together many local volunteers, both chapter members and non-members, and featured a montage of images celebrating Canadian engineering history. The Calling was later used by PEO's Government Liaison Program members to help inform and educate Ontario MPPs about PEO and its regulatory role.
David has also been a motivational force at the provincial level, serving on PEO Council and the Discipline Committee (DIC) at a time when Council separated the regulator's complaints and discipline processes. He took an active role on the Discipline Committee by not only completing the qualifications to serve on discipline panels, but also attending training sessions by the Society of Ontario Adjudicators and Regulators to increase his competency as an adjudicator. As a recent chair of the Discipline Committee, he was instrumental in reducing the backlog of PEO's discipline cases and championing innovative resolution techniques. He enlisted sitting judges and experienced trial counsel to help train committee members to hear and adjudicate cases. He also established the "Lessons Learned" sessions of the committee held in-camera, under the Chatham House Rule, to share and learn best practices.
"Decisions on guilt need to be independent, reflecting public interest and the adjudicative process is not a conventional engineering approach," he says. "It is a learned skill."
As a dedicated volunteer at both the provincial and chapter levels, David has contributed decades of thoughtful leadership to advance the profession.