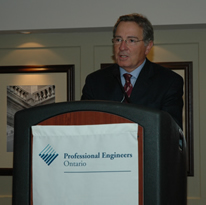 David Zimmer, LLB, MPP Willowdale, Parliamentary Assistant to the Attorney General of Ontario
With a background in law, David Zimmer entered public life in 2003 with an appreciation for the value of self-regulated professions. Since then, he has demonstrated a fierce commitment to ensuring that his Queen's Park colleagues recognize and support PEO's policy direction and regulatory mandate, including our contributions to maintaining the highest level of professionalism among engineers working in the public interest.
As the point person in the Ontario Government for several of the major professions, he has helped to build important relationships for PEO. In several cases, he worked with ministries such as the Attorney General, Citizenship and Immigration, Environment, Government and Consumer Services, and Municipal Affairs and Housing to dismantle roadblocks, improve public service and better protect the public.
Despite a hectic and undoubtedly grueling schedule, he has made time to attend numerous PEO events and has been vocal in recognizing and praising the work of the engineering profession.
For these significant contributions to engineering, Professional Engineers Ontario is proud to honour David Zimmer.