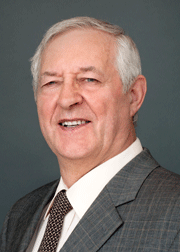 Denis Dixon, P.Eng., FEC
Brampton Chapter
Denis Dixon, P.Eng., FEC, who was inducted as a companion, has been serving the association in various capacities since 1990 when he was chair of the Brampton Chapter.
During his tenure as PEO president, Denis focused on PEO's core regulatory functions with an eye on maintaining positive relations with the Ontario Attorney General, administrative efficiency and the best use of association resources. He also sought greater member participation in the governance and administration of their profession.
The Elliot Lake Algo Mall disaster occurred during his presidency. He became part of a team that represented PEO in subsequent investigations, using his extensive building experience together with knowledge of PEO to influence the outcomes of the inquiry.
Over the years Denis has served on many PEO committees and task forces, including chairing the Professional Standards Committee; serving on the Technologist Licensure Task Force; Consulting Engineers Designation Committee, Audit Committee and more. Those who have worked with him have admired his guidance, knowledge and personal effort in these roles.