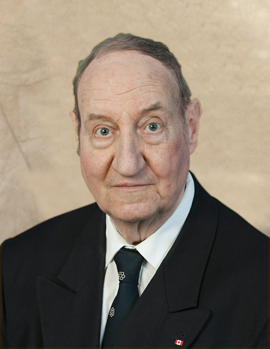 Derek L. Wilson, B.A., BAI, M.Eng, P.Eng., FEC
In his every role as a volunteer for PEO, Derek L. Wilson has been an exemplary ambassador for the profession, always serving with integrity.
A Lieutenant Governor Appointee to PEO Council for seven years, Derek was well respected by colleagues and staff for his insightful opinions and determination to advance the interests of the profession while ensuring the public's welfare was paramount.
He has served on the Discipline Committee since 2002, participating in 26 Discipline panels. He is well-regarded for his ability to balance the public interest with the rights and contributions of the individual.
Derek's passion for the profession is also demonstrated through his support of the Ontario Professional Engineers Foundation for Education, which he chaired for two years. The Foundation encourages Ontario engineering students to achieve academic excellence and to develop their leadership qualities through the awarding of entrance and undergraduate scholarships.
"The privilege of serving on Council and working with the Foundation has provided me with the opportunity to give something back to the profession, which has always been very good to me," he says.
A past president of the Ontario Chapter of the American Public Works Association, Derek was instrumental in opening the first Ontario Chapter branch in the Ottawa Region in the early 1980s.
In 2003, he received the Queen's Jubilee Medal to recognize his community service.