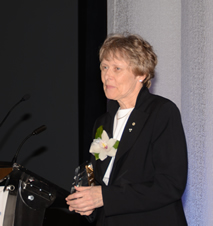 Dr. Roberta Bondar, OC, O.Ont., FRCP(C), FRSC 2010
Roberta Bondar has been an inspiration to Canadians and has motivated young women here and around the world to develop an interest in science and engineering.
Like many of us, she had childhood dreams of becoming an astronaut.
Unlike the rest of us, however, her dream was realized when she launched from Earth in January 1992 aboard NASA's space shuttle Discovery as the first neurologist in space and Canada's first woman astronaut.
For almost 20 years, Dr. Roberta Bondar has been on the scientific forefront in how the brain adapts to unfamiliar environments. Her techniques have been used in clinical studies at Harvard Medical School and at the University of New Mexico.
Throughout her career, Dr. Bondar has maintained a deep interest in our own natural environment, here on Earth. A respected advisor to industry and government, Dr. Bondar was appointed in 2007 by the Ontario Government to chair the Working Committee on Environmental Education, to strengthen environmental education in the curriculum of elementary and secondary schools. The Committee presented the report and the government has moved forward on all 32 of the recommendations.
The excitement of learning and the sharing of knowledge has been a hallmark of Dr. Bondar's career. While a new generation carries on her medical and scientific space research at American and Canadian universities and research institutions, even younger generations model themselves on her passionate quest, especially in the five elementary schools in the province bearing her name, including one right here in Ottawa.
Professional Engineers Ontario is proud to recognize Dr. Bondar for her work in stimulating, motivating, educating, and inspiring the global community through her remarkable depth of expertise as an astronaut, physician, scientific researcher, photographer, author, environment interpreter and team leader.