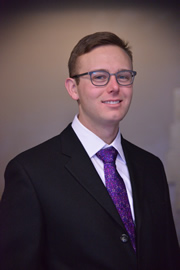 George Crouch, B.E.Sc., EIT, AMCSCE, CAPM
East Toronto Chapter
A civil engineering graduate of the University of Western Ontario and member of PEO's East Toronto Chapter, George Crouch has already put shovels in the ground to build the kind of Toronto in which he wants to live.
Fascinated by planning and policy, and involved in transformational city-building projects, Crouch has gained experience as an engineering intern with Deep Foundation Contractors Inc., a leading foundation and shoring contracting firm specializing in pile foundations and excavation support.
He has led construction teams on several exciting mega-projects, including in his current role as Deep's Assistant General Superintendent for Eglinton Crosstown LRT station works and previously as a site superintendent for the Eglinton Crosstown LRT tunnelling works and assistant site superintendent for the TTC Vaughan Metropolitan Centre subway station.
Crouch has also demonstrated leadership within the engineering profession through his volunteer work. He helped organize the 2015 CSCE Canadian National Concrete Canoe Competition and represents young Toronto civil engineers on the Canadian Society for Civil Engineering (or CSCE) National Young Professionals Committee and the CSCE Toronto Section Executive Committee.