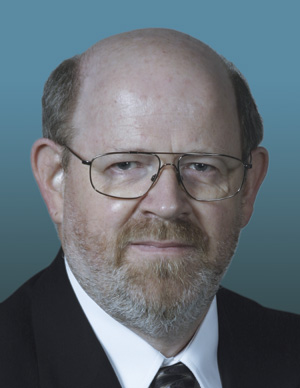 George R. Comrie, M.Eng., P.Eng., CMC
Since he began organizing the Metro Toronto Engineering Career Nights over 30 years ago, George Comrie has had an uninterrupted record of service to the profession at every level.
George has been a member of the Etobicoke Chapter since he was licensed in1973, serving continuously on its Executive since 1990, including three terms as Chair.
His overriding interest in the future of the profession is apparent in his 10 years of service on PEO's Education Committee, including three as Chair, where he pioneered the Engineer-in-Residence program.
As PEO President during the 2004-2005 term, George championed integrating a government communications program into the association's ongoing operations. The program is designed to ensure government, PEO licence holders and the public recognize and respect PEO's regulatory mandate, and its members' long and consistent history of protecting the public interest.
In addition to his significant service on Council over six years, he sought further involvement on task forces whose work focused firmly on the profession's future, relating to governance (Election Procedures Task Force), emerging engineering disciplines (Ontario Software Engineering Task Force and External Groups Task Force – Software), and admission to the profession (Licensing Process Task Force).
Today, George represents PEO as one of three PEO Directors on the Board of the Canadian Council of Professional Engineers. In this capacity, he has been a member of the organization's Value Task Force and its Government Relations Committee. He also represents its Board on the Canadian Engineering Accreditation Board, and is a Director of the national Information and Communications Technology [Sector] Council (formerly the Software Human Resource Council).
In 1982, George was made an Officer of the Order of the Sons of Martha (the predecessor to the Order of Honour) to recognize his then already substantial commitment to fostering the future of the engineering profession. Tonight, we honour his quarter century of service since.
For his continuous leadership of his profession's continuing evolution, the association is proud to invest George R. Comrie, P.Eng., as a Companion of the Professional Engineers Ontario Order of Honour, its highest distinction.