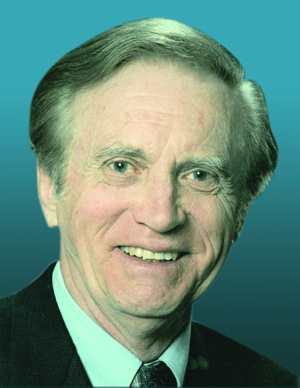 Gordon Sterling, P.Eng.
Since his investiture as an Officer of the Order of Honour 10 years ago, Gordon Sterling has continued his exemplary service to PEO chapters, Council and committees.
Viewed as a natural leader, Engineer Sterling chaired the Willowdale-Thornhill Chapter in 1993-94 and has since continued to serve it in a variety of roles, including as Vice Chair. Elected as PEO East Central Region Councillor from 1997-1999, he went on to be elected President-elect in 2000. During his presidency, he was a consensus builder who always made himself accessible to visitors, staff and volunteers.
Gordon's years of dedicated work on key PEO committees are best illustrated by his leadership as Chair of the Professional Excellence Program Review Task Group, and his commitment to and stewardship of PEO's most recent Strategic Plan as a member of its Steering Group.
In the first role, he was instrumental in helping PEO paint a current portrait of the engineering profession in Ontario. Using practice information collected through the Professional Profile Questionnaire that his task group developed and championed at Council, PEO is now better positioned to assist government in formulating legislation related to engineering. Information on areas of expertise and professional development should enable PEO to raise public awareness of what engineers do and demonstrate the currency of the P.Eng. licence.
In the second role, he ensured that Strategic Plan initiatives were factored into PEO's business plans and budgets. Guided by the plan, PEO has progressed in connecting with members, students, government, employers and others to raise awareness of PEO and the value of licensing. The need for the new plan was at least partly driven by the creation of the Ontario Society of Professional Engineers, of which Gordon is a founding member. This honour recognizes his involvement in the work of the Joint Advocacy Implementation Committee, which resulted in the birth of the Society.
In addition, as a PEO Director, then President-elect, and now President of the Canadian Council of Professional Engineers, he has helped to guide the national federation of engineering regulators through its own strategic planning and restructuring process.
For this leadership and commitment to the profession's continuing evolution, the association is proud to recognize Gordon Sterling with its highest distinction, by investing him as a Companion of the Professional Engineers Ontario Order of Honour.