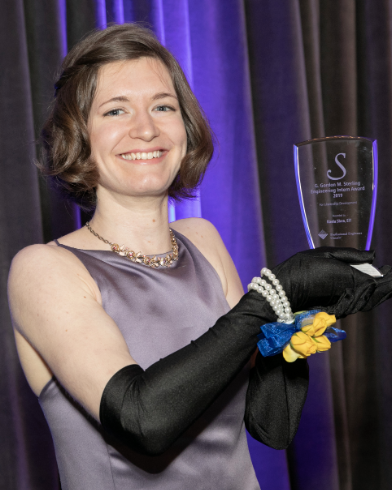 Kaela Shea, EIT
West Toronto Chapter
At school, work and through her many volunteer activities, Kaela Shea is a leader who is committed to making a difference in the lives of others through compassion and engineering excellence.
Currently a PhD candidate at the University of Toronto's Institute of Biomaterials and Biomedical Engineering, Kaela is researching rehabilitation and assistive devices solutions to help overcome communication and physical challenges faced by children with disabilities. Her work includes the development of an innovative brain-computer interface that incorporates natural language processing, bringing the user context-relevant messages for face-to-face communication. As a student, she is known for her strong leadership and communication skills, and high aptitude for assimilating knowledge across multiple disciplines—including engineering, kinesiology and neuroscience.
As an undergrad in the University of Guelph's engineering program, Kaela volunteered as a peer helper, assisting fellow students in learning key course concepts and problem-solving strategies. She also co-founded the first Canadian chapter of Engineering World Health—an organization committed to inspiring the biomedical engineering community to improve healthcare delivery in the developing world. After the chapter was established, she worked to build its presence at the university, planning and leading activities for fellow students.
And as a PEO volunteer, Kaela is an engineer-in-residence at Toronto's Queen Victoria Public School where she engages with students on engineering topics and the profession itself.
Kaela represents a new breed of socially conscious engineers. While she possesses great technical ability, it's her potential to profoundly influence the profession that stands out for her instructors, mentors and peers.