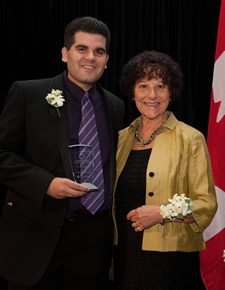 M. Andrew Dowie, P.Eng.
A civil engineering graduate of the University of Ottawa, Andrew has demonstrated remarkable leadership skills in his young career.
Since 2008, he has been heavily involved in the activities of the Windsor Essex Chapter, including serving on its Executive and on its Government Liaison Program and Education Scholarship sub-committees.
He is active in promoting the profession to a variety of audiences through his employer, the Corporation of the City of Windsor, and numerous volunteer community initiatives.
Andrew completed his Master's certificate in Community leadership at the University of Windsor and, in 2009, became licensed as a professional engineer in Ontario.