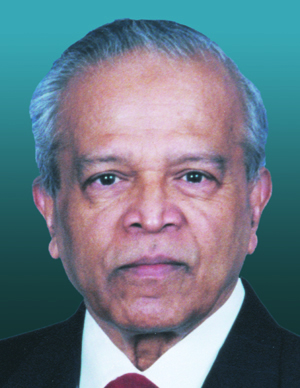 Maximus Perera, P.Eng.
Max Perera has worked tirelessly over many years to update and enhance PEO's policies and processes, so that regulation of the engineering profession in Ontario is not only effective and fair but also seen to be so.
Engineer Perera sat on PEO Council for six years as a Lieutenant Governor Appointee. During that time, he was a member of committees and task forces that produced major reports leading to legislative, policy and procedural changes to the way PEO executes its core functions. He was Vice Chair of the Admissions, Complaints, Discipline and Enforcement Task Force, which reviewed its namesake processes with respect to their fairness, consistency and transparency. Today, nearly all of the task force's 66 approved recommendations have been implemented, in some cases fundamentally altering the way PEO does its business.
Max was also a driving force behind the creation of the Ontario Society of Professional Engineers. Appointed by Council as a PEO Director on the Society's founding Board of Directors, he also served as its first Treasurer. At the national level, he is PEO's representative on the Canadian Engineering Qualifications Board, a standing committee of the Canadian Council of Professional Engineers. At present, he sits on the steering committee for a Canadian Council/federal government joint project called "From Consideration to Integration", which is aimed at fostering best practices in the licensing and integration into the Canadian workforce of internationally-trained professionals.
Most recently, Engineer Perera indicated his willingness to devote three more years to his profession's governance by seeking election as PEO's President-elect.
For distinguished service dedicated to making his profession a model of self-regulation, the association is privileged to invest Maximus Perera as an Officer of the Professional Engineers Ontario Order of Honour.