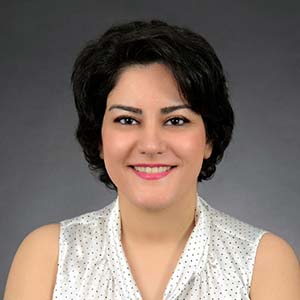 Nazanin Omrani-Moghaddam, EIT
Porcupine-Kapuskasing Chapter
Nazanin Omrani-Moghaddam is an inspiring leader in her professional life, as a mining EIT at Golder Associates, a global engineering consultancy serving mining, energy, environment, and infrastructure sectors. Prior to joining Golder, she led the mining technical team as a supervisor at Newmont Goldcorp in Timmins, Ontario, world's leading gold mining company, with high value in safety standards and technical excellence.
As a mining EIT since 2015, Nazanin has illustrated strong leadership through developing short-range and long-range mine plan and schedule, leading technical meetings with engineers, operation supervisors and mine managers; and directing the operation's drill activity to achieve production targets. Recently she helped develop and manage improvement projects leading to enhanced rock fragmentation, increased production, reduced costs for drilling and increased dump capacity.
As a graduate from Mining Engineering (Co-Op) degree at Dalhousie University, she demonstrated strong leadership and communication skills, assisted fellow students and professors in key engineering courses as a research and teaching assistant.
Nazanin's commitment and leadership within the engineering profession is demonstrated across many endeavours including as a PEO volunteer with the Porcupine­Kapuskasing Chapter since 2017. As an active member of the Chapter, she was elected as secretary and education co-ordinator, demonstrating leadership by organizing events including the annual scholarship fundraiser, golf tournament and EIT nights. She has promoted the profession by participating in Government Liaison Program (GLP) meetings, attending the 2018 Queen's Park reception, attending regional congresses and maintaining the chapter's social media channels. She has been an advocate for women in engineering by co-organizing Girls Expo in Science Timmins 2019—an event aimed at promoting STEM careers among young women students in the community.
Nazanin has demonstrated an interest in PEO affairs and governance by taking on roles of higher responsibility within the chapter. She continues to show her leadership potential by accepting new challenges and overseeing their execution to successful conclusions that ultimately benefit the chapter and profession.