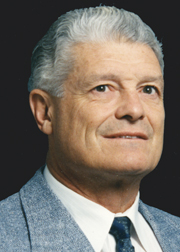 Paul Charles DiNovo, B.A.Sc., MBA, P.Eng., FEC
Oakville Chapter
For over 50 years, Paul DiNovo has been a champion of the engineering profession and its importance to society. He was inducted as a Member of the Order of Honour in 2000 for his contributions chairing the Hamilton and later Oakville chapters. Since then, he has continued to serve as an exemplary ambassador for the profession and role model for all engineers.
Paul has been an influential and enthusiastic promoter of how society benefits from the profession as a member of the steering committee for the Engineering Innovations Forum, a public event held annually in conjunction with National Engineer Month. As the event's fundraising director, his tireless efforts have led to sustained sponsorships from various organizations that have helped ensure the forum's continued success.
An avid supporter of the chapter system, in 2012 Paul served on PEO's Financial Accounting and Reporting Task Force, which helped establish standardized operating procedures to improve fiscal responsibility for all of PEO's 36 chapters. He has also been a valuable member of the Oakville Chapter, serving in numerous executive roles, including webmaster and treasurer. His commitment to helping stage relevant and appealing events has helped increase both member engagement and the chapter's profile within the community.
Throughout his volunteer career, Paul has also been committed to providing students of all ages practical learning opportunities, making great strides in connecting young people to the profession. Since 2014, he has provided generous financial assistance to postgraduate engineering students through establishing scholarships at the University of Toronto and McMaster University.
By volunteering with PEO, Paul hopes he has "influenced the profession and raised public awareness of its importance."
Watch Paul's gala tribute video here.