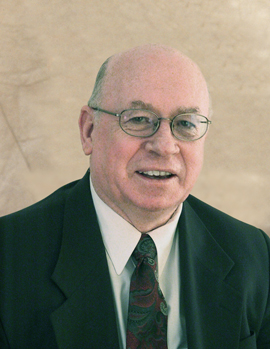 Robert Dunn, M.Eng., P.Eng., FEC
Since becoming an Officer of the Order of Honour in 1996, Bob Dunn has continued his impressive leadership within the profession with his trademark determination and enthusiasm.
A long-time member of the Academic Requirements Committee prior to his induction, Bob has since served for an additional 14 years, bringing an important perspective as one of the committee's few non-academic members.
He also continued his service on the Environment Committee until 2006, when the committee was disbanded. During this time, he played an integral role in preparing PEO's submission to the Walkerton Inquiry, which provided details about how professional engineers are–and should be–involved in the provision of safe drinking water in Ontario.
In 2003, Bob was elected a PEO vice president. He has also been an active member of the Advisory Committee on Volunteers (ACV) for seven years, chairing it for four years during a period of transition when it took on a more advisory role as required by Council.
At the national level, Bob assists in developing guidelines on professional engineering qualifications, standards of practice, ethics and professional conduct as a member of Engineers Canada's Canadian Engineering Qualifications Board.
"The engineering family is a wonderful family," he says. "It was an absolute delight to lend a hand to it over the years."