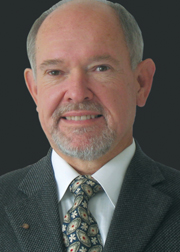 Stephen Jack, P. Eng.
Toronto East Chapter
Stephen Jack has been at the centre of many of the profession's major initiatives for nearly four decades and was inducted as a Member of the Order of Honour in 2007 for his diligent and enthusiastic service to the profession. Since then, he has continued to devote his time to inspiring the next generation of engineers and strengthening the public voice of the profession, largely through the Ontario Professional Engineers Foundation for Education (Engineers Foundation) and the Ontario Society of Professional Engineers (OSPE).
As a director, president and chair, secretary and member of the Engineers Foundation, Stephen has encouraged the pursuit of licensure among university students for nearly 20 years and provided valuable leadership to the registered charity that awards scholarships financed through the generous donations of Ontario engineers. As a result of its fundraising success, the Engineers Foundation in 2015 increased its scholarships to the province's 15 engineering schools by 50 per cent, providing more than 100 engineering students with scholarships of $1,500 each.
"Through service with the Professional Engineers Foundation for Education, we try to ensure that students are properly recognized for their academic and leadership efforts and that they seek active roles in the profession when they graduate," Stephen says.
Stephen has also devoted countless hours to ensuring the professional and economic interests of Ontario engineers are promoted. An influential member of the team that helped to establish OSPE in 2000, Stephen continued to provide leadership and support to the Society over the past decade as an elections scrutineer and member of several committees, including the Fee Schedule Committee, the Nominations Committee and the Employer Compensation Survey Advisory Committee.
Watch Stephen's gala tribute video here.