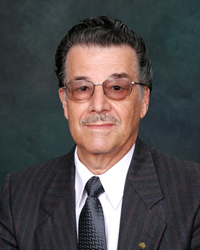 Harvey V. Pellegrini, P.Eng., FASM
Manager, Business Development and Consultant, Centre for Materials and Manufacturing, Ontario Centres of Excellence (Retired)
A distinguished professional and tireless volunteer, Harvey Pellegrini, P.Eng., is passionate about creating learning opportunities in materials and manufacturing, resulting in broad industrial and academic support for a variety of student and industry-related programs.
Prior to his retirement in 2007, Pellegrini was associated for 15 years as an independent contractor with the Ontario Centres of Excellence, a not-for-profit, government funded organization that creates successful partnerships between the research community and industry to improve the economic prosperity of the province through technological innovation. Previously, he had a distinguished 31-year career at Bombardier Aerospace (de Havilland), where he held various progressively responsible management positions in the company's engineering department.
A part-time teacher of materials and manufacturing-related credit courses at Humber College for more than 25 years, he is an outstanding promoter of materials education. As an active member of PEO's Etobicoke Chapter, he has participated in and recruited his professional colleagues as speakers for National Engineering Week events and judged at local and Canada-wide science fairs.
Pellegrini has also served the broader professional community, most notably as education chairman for the Ontario Chapter of the American Society of Materials (ASM), where he helped to develop a number of successful workshops and seminars in a variety of materials and manufacturing-related subjects. Pellegrini is also actively involved as a member of the Steering Committee, and participant, of ASM Materials Camps, a venture that brings together top North American high school students and high school science teachers to learn about the science of materials engineering.
Pellegrini has received many prestigious awards and honours for his professional achievements including the ASM Canada Council MacDonald Young Award in 2001, elected an ASM Fellow of ASM International in 2004, and nominated an Honorary Member of SAE's Aerospace Materials Division in 2006.