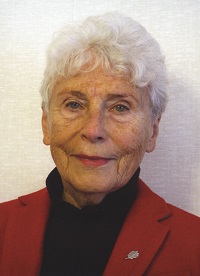 Margaret Kende, P.Eng.
Dean of Engineering Technology, Centennial College (retired)
After immigrating to Canada from Hungary in 1957, she entered the civil engineering program at the University of Toronto and graduated three years later as one of the first four women to complete the program. After 10 years of working as a structural engineer, and following the birth of her second child, she joined Centennial's civil engineering technology program as a teacher—later becoming Canada's first female engineering dean in 1977. In her role as executive director of strategic planning, she used her engineering skills to facilitate the programming and future directions of the college.
As a volunteer, Kende served as president of the national executive of Women in Science and Engineering (WISE); and in her paper to the 1986 Canadian Forum on National Science and Technology, she called for upper-level high school credits in science and mathematics to be among the entrance requirements for all university programs except those in the visual and performing arts.
​
Since 1988, she has been a warden of Camp One of the Corporation of the Seven Wardens Inc., obligating engineering graduates. She served as chair or was a member of several PEO committees and was an elected councillor-at-large. As chair of the Education Sub-Commission of the Canadian Commission for UNESCO, Kende used domestic and international platforms to advance gender equity and human rights.
After retiring from Centennial College, Kende continued work as a management consultant; and, together with her P.Eng. husband, joined the Canadian Executive Services Organization (CESO) as volunteers. Together, they completed several international assignments, helping to spread Canada's human rights and gender equity values in other parts of the world.
ln 2010, Kende received the University of Toronto's Arbor Award (which recognizes volunteerism and contributions to the university) and was honoured with a scholarship bearing her name. True to her tendency to cheer for the underdog, she requested the award be given to the civil engineering student who demonstrated the greatest improvement in their grades between the first and second terms of first year.
​
Kende has also been an active volunteer with the Toronto District School Board, visiting classrooms and inspiring students on the value and potential of STEM careers. As one teacher noted, Kende "uses her personal life experiences and stories to inspire compassion and to motivate students, especially the many young girls whom she worked with, who struggled to read or understand basic maths. As a female mathematician and engineer, she has been a wonderful role model who piques my students' curiosity, motivating and influencing them to think critically, and to not let gender stereotypes get in the way of their achievements and success in leadership roles."