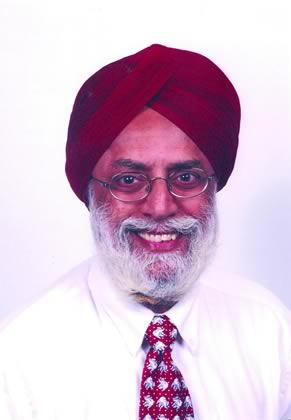 Mohinder Singh Grover, PhD, P.Eng.
Senior Quality Engineer, Atomic Energy of Canada Limited
For over three decades, Mohinder Singh Grover, PhD, P.Eng., has dedicated himself to enhancing his profession and society-at-large through tireless volunteer contributions.
A recognized authority on reliability engineering and quality engineering, Dr. Grover worked for nearly 30 years with Ontario Hydro/Ontario Power Generation, delivering many training courses in reliability and quality engineering for power generation, transmission and distribution.
Following retirement in 2004, Dr. Grover worked with OPG as a senior quality engineering consultant on the Pickering A Restart Project. He then became a senior quality engineer with Atomic Energy of Canada Limited (AECL), where he has been recognized with several awards, including the AECL President's Award of Merit, for developing a novel quality program for nuclear applications.
Since 1992, Dr. Grover has represented Canada on a committee of the International Electrotechnical Commission, responsible for developing and maintaining international standards for dependability. That group recognized his contributions with its Certificate of Merit in 2001.
A professional engineer since 1976, Dr. Grover uses his own experiences to guide international engineering graduates to licensure in Ontario through volunteering on PEO's Experience Requirements Committee and its subcommittee. He is also a mentor for newcomers to Canada through Skills for Change, helping immigrants and refugees to access and fully participate in the workplace and wider community.
Dr. Grover is an active fundraiser for various causes, participating in the annual Terry Fox Run for 25 consecutive years and donating his time for the United Way, the White Ribbon Campaign, Habitat for Humanity, and Employment Equity. He has also served on committees within and representing the Sikh community.