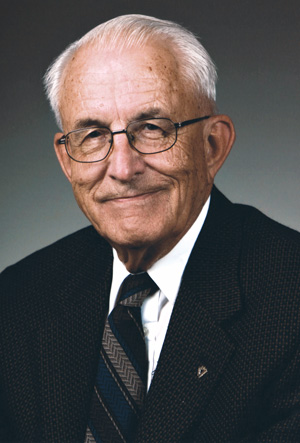 Robert Henry Rehder, P.Eng.
Retired
Robert Henry Rehder, P.Eng., is an enthusiastic and creative engineer who has applied these talents to his community activities in Peterborough.
His project to restore a local pioneer water-powered sawmill to a world-class museum is known throughout the Peterborough community. Since 2002 when Rehder and his dedicated volunteer team began to repair and rebuild the Hope Mill, he has lobbied local business and organizations to donate funds or services toward the restoration, resulting in a community investment of more than a quarter of a million dollars. His vision came true in 2007 when lumber was cut for the first time. After 10,000 total hours of volunteer effort, the mill opened to the public on Sundays this past summer for lumber-cutting demonstrations.
Active in his church and a Beaver and Scout Leader over a 13-year period, Rehder has been an abiding presence in many projects of the Otonabee Region Conservation Authority. His personal involvement includes planting a woodlot of trees long before any talk of carbon sinks.
He also played an active role in a project to collect all the Peterborough regional engineering archives for preservation. These valuable historical references are now in the local museum and in Ottawa.