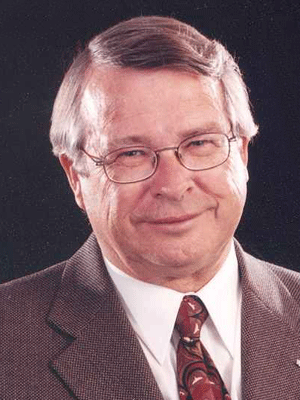 Stuart Weston (Wes) Libbey, P.Eng.
Retired Former Instructor, St. Lawrence College
A long-time educator and mentor, Wes Libbey has used these skills during a lifetime of service to his community and to society.
His career as a charter employee of St. Lawrence College in Cornwall spanned four decades. He started as a department head and ended his academic management positions as dean of technology and trades. He was an electronics professor prior to his retirement in 1997.
In the wider community, he has consulted on technical education in many impoverished countries, including St. Lucia, Yemen, Ethiopia and Malaysia. He was quick to volunteer for the Winnipeg Flood Relief Project to assist the recovery of those affected by the 1997 disaster.
Locally, Libbey chaired the school board at age 35 and was a Kinsmen District Governor the following year. For many years, he has been a Shrine clown and the local town crier. He was also president of the Historical Society.
Upon his retirement, Libbey sought volunteer opportunities in the health field. He chairs the local Community Care Access Centre and is a past chair of the Ontario Association of Community Care Access Centres. He is also a director on the Cornwall Community Hospital Foundation.
To recognize his community service, Libbey received the Queen's Silver Jubilee Medal in 1978 and, 25 years later, the Queen's Golden Jubilee Medal. He is also a recipient of the Province of Ontario's 15-year Volunteer Service Award, and the Ontario Medical Association's Community Service Award.

In 2002, PEO formally recognized Libbey as one of its first Engineers in Residence.