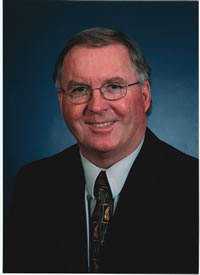 Wayne Douglas Wood, P.Eng.
Senior Engineer, Urban & Environmental Management
For nearly four decades, Wayne Wood, P.Eng., has dedicated his professional career and his free time to the City of Brantford.
As the city's General Manager of Engineering and Operations, he played a leading role on the city's senior management team in bringing several large firsts to the city, resulting in employment opportunities and economic development.
This municipal engineer has also worked to ensure the city is provided safe and tasty drinking water from a water source that is one of the most difficult to treat in the province.
A member of the Municipal Engineers Association (MEA), he served as its volunteer president in 2001/2002, following over 10 years of volunteer service on its board. There, he was a founding member of the Tri-Committee, a joint effort of MEA, the Ontario Good Roads Association and the Ontario Public Works Association. This Tri-Committee established open access computerized infrastructure management systems, so municipalities can share information.
In addition, Wood has used his leadership skills and energy to organize, and generate interest in and financial backing for countless events to support such local charities as Community Living Brant, the Canadian Cancer Society Brant-Norfolk, the Canadian Pioneers Social Club, which he served as President, the Alzheimer's Society of Brant, with which he was a director, and Participation House which he also served as Chairman of the Board.
A past chair of PEO's Brantford Chapter, who served six years on its executive committee, Wood retired in 2007 from his 37-year career with the city to devote more time to community service. He recently accepted a position as a Senior Consultant with Urban & Environmental Management providing leadership in their new Brantford office.