We provide resources to assist our stakeholders in understanding our regulatory role and how we protect the public interest.
As part of its regulatory mandate, PEO establishes, maintains and develops: standards of knowledge and skill; standards of practice for the profession; standards of professional ethics; and promotes public awareness of its role. The following are resources to assist PEO stakeholders--licence holders, applicants, and the public--in understanding their roles and responsibilities and the regulator's work protecting the public interest.
Frequently Asked Questions
1. What is the Continuing Knowledge Declaration?
The Continuing Knowledge Declaration element is a reporting component. Here, practising licence holders are asked to report their continuing knowledge development to PEO using a simple online form. Non-practising licence holders are exempt from this element of the PEAK program, but they are not discouraged from engaging in continuing knowledge development. 
Licence holders are empowered to create their own learning plans that focus on technical engineering learning relevant to their practice areas. They are encouraged to define learning plans that leverage readily available content that is easiest and cheapest for them to access and delivered by any reputable global source of relevant learning material. 
Here is a preview of the continuing knowledge declaration form and where to find it in the portal: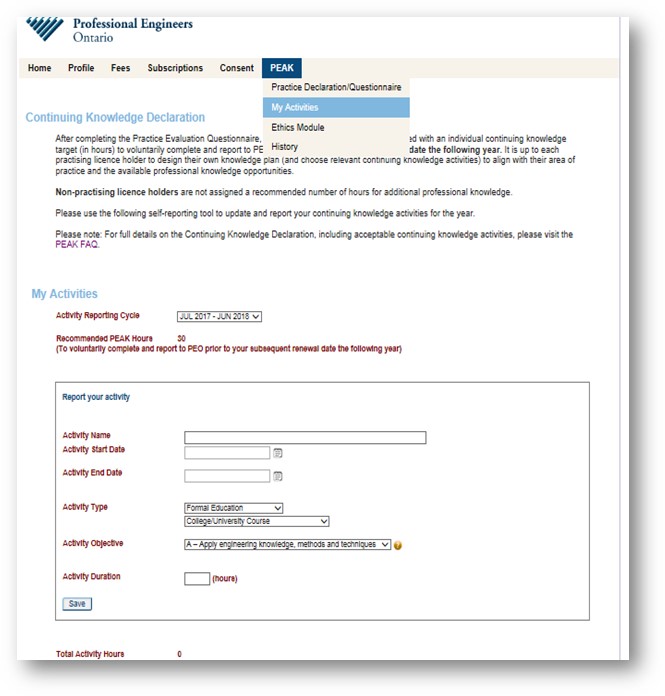 2. How many professional development hours do I have to complete?
PEO will recommend up to 30 hours of continuing knowledge hours for the year to practising licence holders alone. This recommendation is generated immediately after these practitioners complete the PEAK practice evaluation questionnaire, and is customized to each licence holder based on their responses to the questionnaire. To allow licence holders to seek and complete their continuing knowledge at their preferred learning style and pace, the recommendation is described in terms of number of hours and not in terms of learning topic or avenue of learning. 
3. What are continuing knowledge activities and professional practice activities?
PEO describes a "continuing knowledge activity" as any learning activity that reinforces or supplements a licence holder's engineering knowledge and competence. PEO describes a "professional practice activity" as any professional practice activity that involves the application of a licence holder's existing engineering knowledge to their professional engineering activities for work, volunteer or pro bono projects. PEO does not recognize professional practice activities for continuing knowledge declarations (reports) for the PEAK program. 
4. What activities count towards my continuing knowledge hours?
PEO describes three (3) categories for avenues of learning to capture and understand licence holders' preferred learning formats for continuing knowledge activities: formal education, informal education and contributions to knowledge. When licence holders submit their continuing knowledge reports, PEO asks them to indicate the category associated with the continuing knowledge activity being reported. 
The "formal education" category describes an avenue of learning that involve the licence holder acquiring engineering knowledge. Here, the licence holder must be evaluated and pass requirements set out by the presenter or instructor to confirm the licence holder's understanding of the content, in order to have successfully completed the activity. Examples include attending courses and certification programs. 

The "informal education" category describes an avenue of learning that involve the licence holder acquiring engineering knowledge. Here, the licence holder is not evaluated by the presenter or instructor to confirm the licence holder's understanding of the content. Examples include conducting self-directed study; reviewing technical documents such as manuals, specifications, guidelines, standards, codes and regulations; and attending seminars/webinars, workshops and technical engineering tours. Being mentored on technical knowledge and attending technical learning events for work could fall within this category. 

The "contributions to knowledge" category describes an avenue of learning that involves the licence holder disseminating and sharing technical engineering knowledge to the engineering community. Examples include developing engineering best practices for employers, regulators and technical bodies; presenting or lecturing on technical engineering content and best practices; and publishing technical engineering information in university publications, technical journals and engineering-related media. 
5. What are examples of activities for the continuing knowledge categories for by the PEAK program?
Here is an infographic showing examples of activities that count towards your continuing knowledge hours: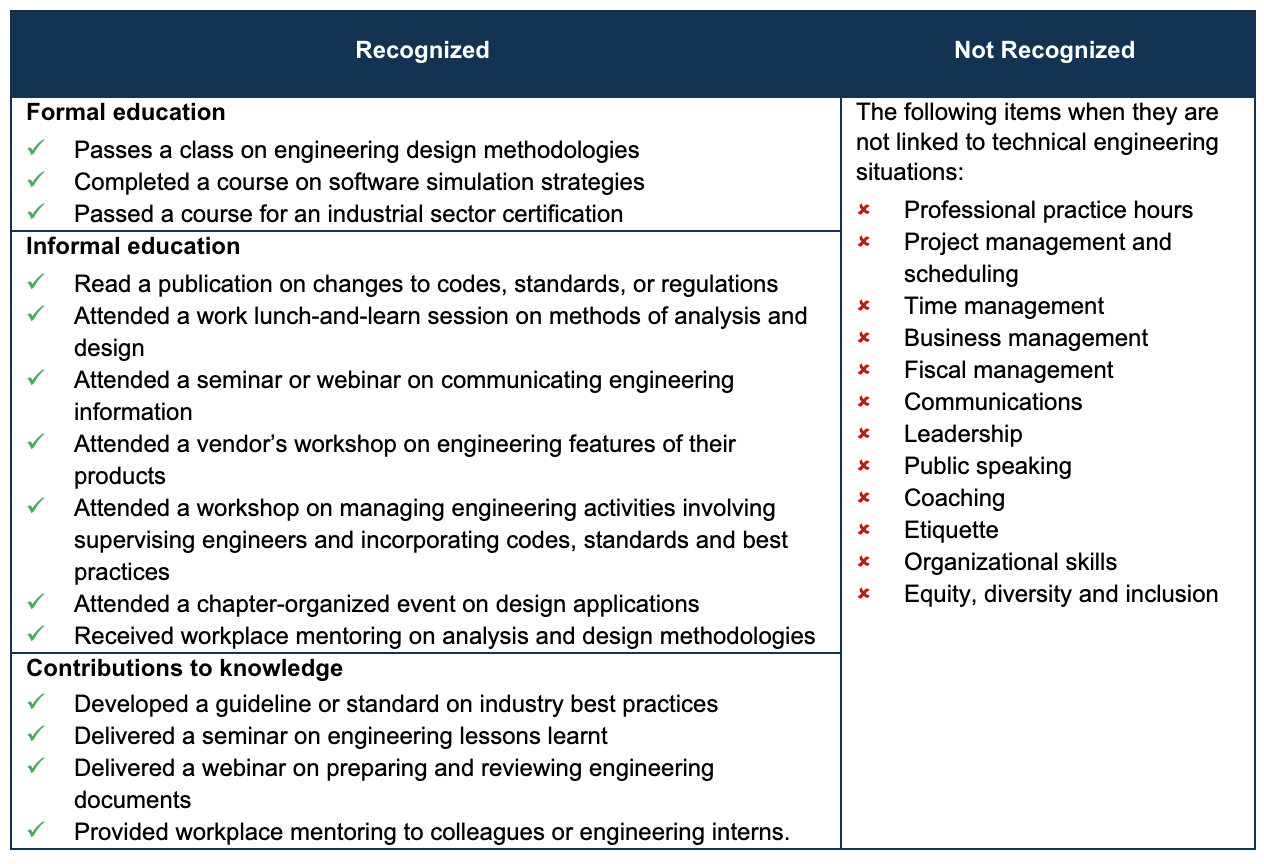 6. Where do I submit proof of completion of my activities?
The current version of the PEAK program does not require the submission of proof of completion of a learning activity; however, feel free to retain copies of such proofs for your other continuing knowledge planning and reporting needs. 
7. What is the formula for reporting my hours?
PEO asks licence holders to mark on their continuing knowledge declaration forms the true time spent on a continuing knowledge activity and to indicate this duration in 15-minute increments. Licence holders are welcome to report some or all the time they spent on an activity using their judgment and professional discretion. For instance, for a learning event with technical and non-technical engineering content that lasted 3 hours, a licence holder could determine that only 2 hours and 15 minutes of the overall event would be described as a continuing knowledge activity, and the licence holder would only report this portion of the event to PEO using the PEAK program. 
8. Could I report activities I already completed for another program?
Licence holders who already complete learning activities for other programs—by employers, other regulators or technical associations—that align with the PEO description for continuing knowledge activities could consider reporting those learning activities for the PEAK program. 
9. Where does PEO prescribe continuing knowledge activities and providers of those activities?
PEO encourages and empowers licence holders to identify and pursue learning activities with content that licence holders deem to be relevant and sufficiently technical for their continuing professional development needs, as well as being suitably accessible to them. 
PEO does not prescribe, review, validate, or accredit continuing knowledge activities and the content. PEO does not prescribe, review, pre-approve, prequalify, or endorse providers of continuing knowledge activities. 
10. How does PEO recognize project management activities for the PEAK program?
Activities count towards your continuing knowledge hours when they are learning sessions with technical knowledge that maintain or update your competence in engineering. Activities dealing with other professional development skills—such as communications, project management, scheduling, leadership, equity, business management—generally do not count towards your continuing knowledge hours. 
However, PEO recognizes learning sessions with content on the "management of engineering activities" as continuing knowledge activities when those activities reinforce or supplement knowledge of how to appropriately manage acts of professional engineering in a competent and professional manner. These activities would involve an understanding of the requirements for carrying out acts of professional engineering as per PEO guidelines and the Professional Engineers Act for Ontario. Managing engineering activities requires knowledge of the responsibilities of professional engineers, an understanding of codes and standards, and knowledge of best practices in engineering activities to properly allocate licence holders with appropriate skills.